Wouldn't it be great to have an entire IT department ready to answer your questions on demand? For many small businesses, having that mix of expertise and reliability comes at a heavy cost. Managed services offers the solution.
Crossroads IT can provide your company with the quick, reliable, and knowledgeable services that you'd expect with larger businesses, all at a reasonable cost. 
With our tools, we can remotely support, manage, update, and track all your vital technological components. Your IT infrastructure is proactively monitored for problems so you can focus on what matters most to your business.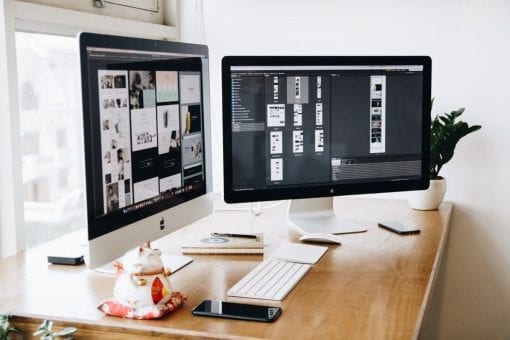 The Ways Managed Services Benefit Your Business.
Your company works best when it's working on what matters. Spending time fixing IT problems is time spent not focusing on your core business.
Using our diagnostic tools, Crossroads IT can proactively monitor your network around the clock. Hardware and software problems are reported nearly real time. We identify issues before they turn into stoppages.
Managed services also allow us to remotely connect to machines. Rather than waiting a day for a technician to come look at the problem, we're working on a plan to get your office back on your feet without travel time.
Crossroads IT is committed to keeping your organization up and running; allowing you and your employees to focus on making your business the best it can be.
Security is paramount to every business.
Crossroads IT believes in effective and aggressive protection from the latest viruses, spyware, malware, and ransomware. We have the industry partners to stay on top of your security needs.
We install, configure, and update industry-leading software automatically. That software keeps your data safe, your network defended, and your computers running without issue.
Staying ahead of threats is the best way to take on IT security. An ounce of prevention allows your company the best chance at stay healthy and problem-free.
Communication is a cornerstone of Crossroads IT.
Our people have all been part of small businesses in various capacities. We know the great feeling of proper customer service and the loyalty of finding a vendor who will do the right things at the right price. We've dedicated ourselves to always providing that to our clients.
We are here to provide you answers and take the burden of IT off your shoulders. You've got enough to worry about. It's time to focus on the multitude of other things that allow your company to thrive.
As a small business ourselves, Crossroads IT understands the importance of managing costs.
Managed services allows you bundle vital IT services that cover a range of needs These services make your business better, safer, and more equipped to predict your IT expenses ahead of time.
Chances are you have some current costs around security, storage, and backups. We include those services in our managed services subscirptions. In addition, we help configure, install, and manage to your specs. To top it off, we provide remote and in-person technical support, broker purchases, dedicate a point of contact, and much more.
Our IT admins take care of your IT needs. Save the time, labor, energy, and frustration of maintaining it yourself.
Backing up your business remains a critical step to ensuring your long term success.
Crossroads IT offers backup schedules and remote storage for both files and system images. Of course, remote storage is just an option. If you're more comfortable, backups can be kept either in your office, in a secure remote storage facility, or both. 
Safe and available backups are only part of the solution. A disaster recovery plan is vitally important as well. We know how to plan for the restoration of your data quickly. That planning, it protects your business from threats ranging from ransomware to natural disasters.
Your business is your data, make sure neither is out of date.
Every major business investment carries a certain amount of risk. Markets, competition, regulations, and technologies all change very quickly. Investing in technology is no different. 
Outsourcing your IT infrastructure manages some of this risk for you. Our people have seen the good and bad in technological investments. We have the knowledge and experience that can help you make the right choices.
Using our unique insight, we can help guide you in those important decisions. Talk to us and leverage our areas of expertise to better guide your company where you want it to go.
Your business needs consistency in order to expand or contract properly. When personnel are moved, there's a great deal of work involved. That work is something we can plan and execute.
Acquiring or decmissioning computers. Configuring users and permissions. Performing inventory audits. These are just a few of the important ways Crossroads IT can save you time and money.
Many companies have online partners they need to help run thier businesses. File storage, government websites, and webmail accounts are just a few examples of concerns when bringing on, or removing someone from payroll. You have to make sure those account are opened and closed corrctly, and without issue. 
Crossroads IT has experience planning and executing on and off-boarding procedures. We formulate a plan and make sure the proper steps are taken to ensure the least disruption and maximum security possible.
Copyright © 2018-2019 - Crossroads IT, L.L.C.